General public
Free guided tours of the Australian Synchrotron will be offered six times a year on Saturdays and for any member of the general public that are 12 years or older. Book here
Business and Scientific Visits
Special guest visits can be arranged for business and/or scientifically related groups. Requests for special guest visits should be submitted with at least two weeks' notice and are subject to the approval of the Head of Commercial Operations and Stakeholder Relations. When requesting a special guest visit, you will be asked to outline any existing relationships with the Synchrotron and opportunities for future collaboration. Click here to submit a request   
Visitor safety information
Visitor Safety Information - MUST RE READ BY ALL VISITORS (pdf, 213 kb).
Locating the Synchrotron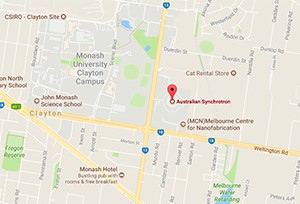 Traveling by public transport:
The following buses stop at a bus stop on Blackburn Rd near the Australian Synchrotron: 703, 737.

The following buses stop at the Monash University bus loop: 630, 631, 691, 703, 733, 737, 802/804/862. From there, visitors can exit Monash University on the Wellington Rd side (nearest the bus loop), walk down Wellington Rd alongside the University and then cross Blackburn Rd at the traffic intersection to reach the Australian Synchrotron.

The nearest train stations are Huntingdale and Clayton stations which are on the Cranbourne/Pakenham line, and Syndal station which is on the Glen Waverley line. Connecting buses can be caught from any of these train stations.
Further transport service details
Public Access Events:
Please watch our events page or Facebook page for opportunities to visit the Australian Synchrotron or contact tours@ansto.gov.au