This page relates specifically to the Macromolecular and Micro Crystallography beamlines. For all other beamlines, please click here.
Experiment Authorisation
Please note: Only CAP program leaders and assistants can access and submit the Experiment Authorisation on the Portal.
The deadline for submission of the Experiment Authorisation (EA) is 5 clear business days from the start of beamtime, with no changes to be made to the list of attending users. Please make sure to include any National and Victorian public holidays when calculating the submission date.
The EA cannot be submitted until all attending users have completed their offsite safety training.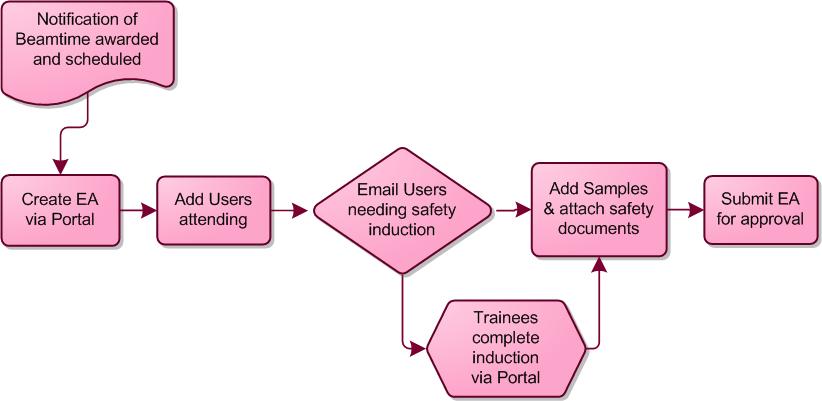 The EA can only be submitted online via the Australian Synchrotron User Portal; https://portal.synchrotron.org.au

On the Home/Dashboard page, under the Experiment Authorisation section, select Create and Manage; then click on the blue 'Create EA' button. Follow the directions under each tab which outline the required content and submit once finalised.

If you or one of your assistant CAP Coordinators have already started the EA but have not yet submitted it, then it will be displayed on the Create and Manage page and can be edited by selecting the 'Update' button in the Actions column.

The EA must be submitted a minimum of 5 business days prior to your experiment, and all offsite safety training must be completed prior to submission. No changes can be made to user list within 5 business days of beamtime. Please note: a maximum limit of 15 users per experiment applies to all MX experiments.

Enter all experimental samples to be brought onsite, including information regarding their preparation and handling. For example: Frozen protein crystals of bacterial protein DapF (recombinant produced in E.coli) Non-hazardous/Non-toxic. Crystals stored in dry shipper, (cryoprotectant solutions such as sucrose, glyserol, ethylene glycol). Or Protein crystals of DapF (recombinant produced in E.coli) Non-hazardous/Non-toxic in trays. (listing any toxic/hazardous chemicals i.e cacodylic acid buffer, heavy atom compounds etc. For assistance, please contact your beamline scientist well in advance of the submission deadline.

If you are bringing any toxic chemicals the relevant OHS safety/risk assessment forms MUST be uploaded and relevant MSDS for those chemicals attached otherwise the EA WILL NOT be approved.
Offsite Safety Training & Laboratory Access
Users must undertake offsite safety training to access the experimental hall and hutches. This test must be undertaken biennially to ensure users are up-to-date with safety procedures at the Australian Synchrotron.

Access to specific laboratories will be authorised by the beamline scientist based on the information provided in your EA.  Each User will need to complete a laboratory induction prior to the use of each lab.

For further information regarding the Safety Training and Laboratory Access, follow the link below:
https://archive.synchrotron.org.au/index.php/features/pre-beamtime-requirements/safety-training-and-induction
Accommodation
You must create & begin your Experimental Authorisation prior to submitting your Accommodation Application.
CAPs containing one or more non-local PIs will be eligible for complimentary accommodation in two rooms at the AS Guesthouse for each beamtime visit in order to accommodate interstate and country Victorian researchers ONLY. CAPs comprised solely of local or international PIs are ineligible for complimentary accommodation and will be required to pay the affiliated guesthouse rate. Please click here for further guesthouse information including our current pricing.
CAPs that are covered are eligible to stay at the Guesthouse for the nights of their beamtime plus up to two additional nights, provided that these are contiguous with the dates of the beamtime. Any additional nights or rooms will incur the nightly rate. Users must arrange their own flights and ground travel.

Where accommodation in the Guesthouse is required, the CAP coordinator must submit an accommodation application form at least 2 weeks in advance of your allocated beamtime visit. The accommodation application form can be downloaded from our website. Any combination of the queen and twin rooms can be requested on the accommodation application form.

Please note that Guesthouse rooms cannot be banked in credit – usage of only one of the two complimentary rooms on one beamtime visit does not render the CAP eligible for three rooms on the next visit. There will be strictly two complimentary rooms per beamtime visit with any additional rooms incuring the standard rates.

For further information regarding the AS Guesthouse and to download the Accommodation Application form, please visit the Guesthouse page.
Shipping Funding & Handling procedures at the MX beamlines
All dewar shipping funded by the Australian Synchrotron will be provided via a preferred service provider, PAKAIR. The cost of shipping dewars via other providers WILL NOT BE REIMBURSED.
 
Please see the sample shipping webpage for further details.
Save
Save
Save