SinSPECt (Soft x-ray spectrum inSPECTor) is a data explorer for Soft X-Ray spectroscopy data stored in the SPECS XML format,
released under the Modified BSD-license. It reads data captured using the SpecsLab2 software running at the SXR beamline at the Australian Synchrotron.
Current software version
0.5 release
Download
To obtain the current software version, please enter an email address in the following field and click 'Subscribe' to obtain download links. Collection of your email address enables us to get an idea of the number of users and is covered by our privacy policy, stated here. We may use this address to inform you of new versions of the software.

The SXR team are interested in your feedback from your experiences with SinSPECt and would like suggestions for features to be added in the future. Please send bug reports and suggestions to sinspect@synchrotron.org.au
Features
Reads SPECS XML format files saved from SpecsLab2.
Graphical exploration of data regions.
Exports columnar ASCII with choice of delimiter and optional headers.
Supports normalisation of data to internally available data channels.
Cross-platform. Runs on Windows/Mac OSX/Linux
Released under the Modified BSD-license.
Screenshot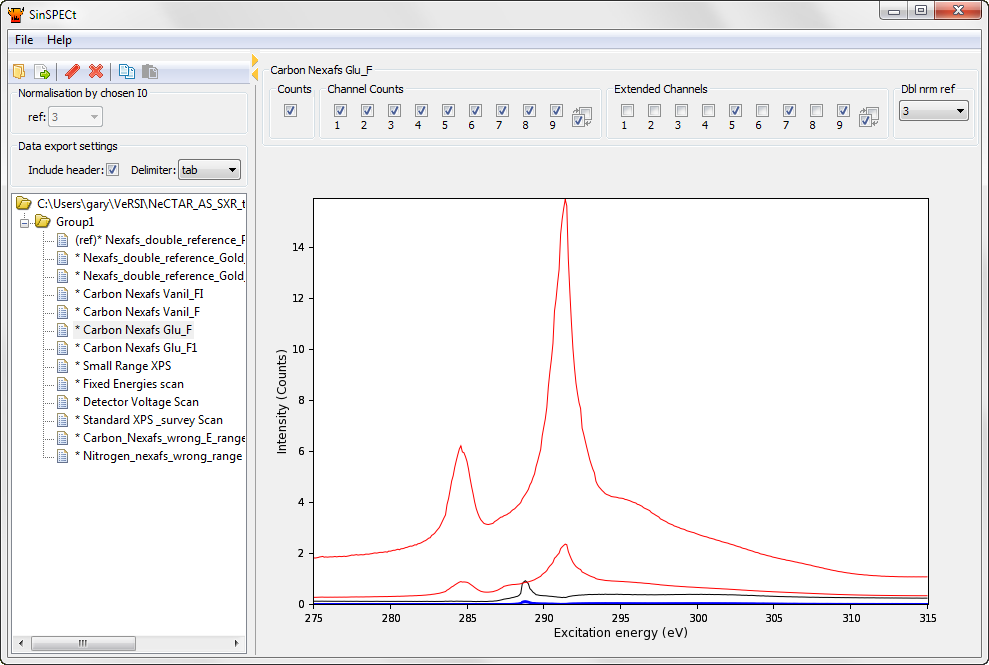 Documentation
To learn more, visit the documentation at http://sinspect.readthedocs.org.
Software authors:
Gary Ruben, Victorian eResearch Strategic Initiative (VeRSI), gruben@versi.edu.au
Kane O'Donnell, Australian Synchrotron, kane.odonnell@synchrotron.org.au
Recognition of NeCTAR funding
The Australian Synchrotron is proud to be in partnership with the National eResearch Collaboration Tools and Resources (NeCTAR) project to develop eResearch Tools for the synchrotron research community. This will enable our scientific users to have instant access to the results of data during the course of their experiment which will facilitate better decision making and also provide the opportunity for ongoing data analysis via remote access.