Technical Specifications
Source
Bending magnet
Available energy range
5-30 keV (0.41-2.4 angstroms)
Mirrors
Si, Rh, Pt coated
 
2-3 mrad incidence angle
 
VCM - collimates beam
 
VFM - focuses beam in vertical
DCM
Si(111) flat crystal pair, energy range 5-20 keV
Si(311) flat/bent crystal pair, energy range 7-30 keV
Nominal beam size at sample
(horizontal x vertical) 5 mm (H) x 2 mm (V) Unfocussed
<0.5 mm (H) x <0.5 mm (V) Focussed
Harmonic content
<1% in the case of two mirrors
Beamline Design
The Powder Diffraction Beamline is located on a bending magnet source and has been designed to operate over the energy range 5-30 keV. The beamline consists of three hutches and a user cabin. The first hutch contains the optics, including mirrors and double crystal monochromator. The centre hutch houses the primary end station where the majority of powder diffraction experiments are undertaken. Finally, the third hutch contains a large optical table which allows a variety of alternative configurations, primarily centred on engineering applications.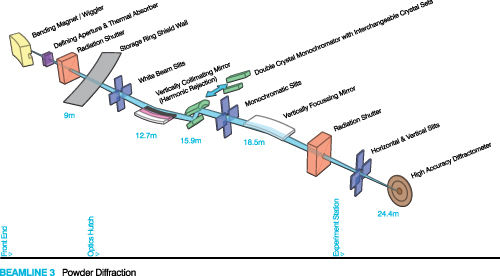 Schematic layout of the 10-BM-1 Powder Diffraction beamline
End Stations
End Station One
The primary end station has been designed such that it is capable of accommodating a wide variety of experiments, particularly those utilising non-standard sample stages and cells. This end station is well suited to time resolved and in situ experiments as well as more traditional powder diffraction geometries and experiments. The range of studies carried out at this station include:
Structure/property studies of solid metal oxides, such as the advanced materials used for magnetic, conductivity, superconductivity, and ferroelectric, catalytic and battery applications
structural studies of microporous materials such as zeolites
examination of minerals and minerals processing products, particularly under non-ambient conditions
phase identification and quantification of pharmaceuticals
ab initio structure solution
variable temperature studies.
Detectors
The detectors available for use are:
Mythen, microstrip detector
Mar 345 Image plate detector, area detector.