Swinburne sends student away ... to Italian synchrotron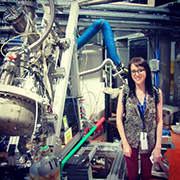 A young university student who specialises in computational and theoretical chemistry – the field that attracted the 2013 Nobel Prize in Chemistry – will travel to Italy to conduct synchrotron experiments not possible in Australia. Her overseas work is supported by the Australian Synchrotron.
Rebecca Auchettl, Swinburne University of Technology's first honours student in computational and theoretical chemistry, will travel to the Elettra Sincrotrone in Italy in 2014. The Australian Synchrotron is supporting her overseas work through its International Synchrotron Access Program (ISAP). ISAP has enabled six Swinburne students, including five PhD students, to undertake experiments at Elettra since 2010.