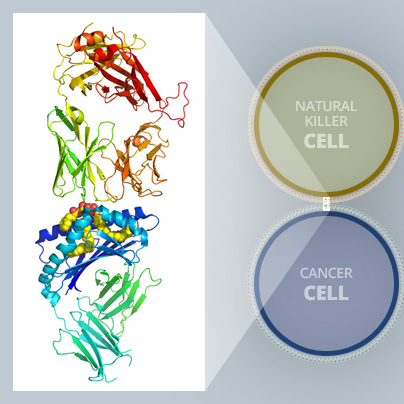 A subset of natural killer cells known as invariant natural killer T (iNKT) cells are powerful weapons our body's immune systems count on to fight infection and combat diseases like cancer, multiple sclerosis, and lupus. Finding ways to spark these potent cells into action could lead to more effective cancer treatments and vaccines.
While several chemical compounds have shown promise stimulating iiNKT cells in animal models, their ability to activate human iNKT cells has been limited.
Now, an international team of top immunologists, structural biologists, and chemists published in Cell Chemical Biology the creation of a new compound that appears to have the properties researchers have been looking for. The research was co-led by Monash Biomedicine Discovery Institute's (BDI) Dr Jérôme Le Nours, University of Connecticut's Professor Amy Howell and Albert Einstein College of Medicine's Dr Steve Porcelli.  Dr Le Nours used the Micro Crystallography beamline (MX2) at the Australian Synchrotron as part of the study.  
The compound – a modified version of an earlier synthesized ligand – is highly effective in activating human iNKT cells. It is also selective – encouraging iNKT cells to release a specific set of proteins known as Th1 cytokines, which stimulate anti-tumour immunity.
One of the limitations of earlier compounds was their tendency to cause iNKT cells to release a rush of different cytokines. Some of the cytokines turned the body's immune response on, while others turned it off. The conflicting cytokine activity hampered the compound's' effectiveness.
The new compound – called AH10-7 – is uniquely structured so that does not happen.
"One of the goals in this field has been to identify compounds that elicit a more selective response from iNKT cells, and we were able to incorporate features in AH10-7 that did that," Professor Howell said.
The robust study, years in the making, also applied advanced structural and 3D computer modelling analysis to identify the underlying basis for the new compound's success.
These highly detailed insights into what is happening at the molecular level open up new paths for research and could lead to the development of even more effective compounds (see illustration above).
Using the MX2 beamline as one of the experimental methods in the study, co-leading author Dr Jérôme Le Nours, a structural biologist and ARC Future fellow within the Biomedicine Discovery Institute at Monash University, obtained atomic structures of the key proteins revealing detailed molecular interactions. The molecular analysis helped validate and explain experimental results.
"By exposing a crystalized form of the molecular complex to a high-intensity X-ray beam at the Australian Synchrotron, we were able to obtain a detailed 3-D image of the molecular interplay between the invariant natural killer T cell receptor and AH10-7," Dr Le Nours said. 
"This enabled us to identify the structural factors responsible for AH10-7's potency in activating iNKT cells. This valuable insight could lead to the development of even more effective anti-metastatic ligands," he said.
Principal scientist of the macromolecular crystallography beamlines, Dr Tom Caradoc-Davies, who provides technical support on the instrument, said the research represented a significant accomplishment based on a painstaking multi-disciplinary contribution from around the globe and was a promising development.
Efforts to harness the therapeutic potential of human iNKT cells began 20 years ago with the discovery that natural and synthetic forms of glycolipid ligands known as alpha-galactosylceramides, or α-GalCers for short, were potent activators of iNKT cells. 
Scientists immediately recognized their possible value in fighting cancer and other diseases. These α-GalCer ligands serve as tiny dock masters in our immune system, helping antigen-presenting cells attract and bind with iNKT cells so they can be activated to kill cancerous cells or fight off pathogens and other foreign invaders.
The first promising version of a synthesized α-GalCer was a compound known as KRN7000. While KRN7000 powerfully stimulated iNKT cells, it triggered the release of a flood of many types of cytokines, limiting its potential for clinical applications. 
Since then, researchers have been searching for new variations of KRN7000 that maintain their effectiveness in activating human iNKT cells while also favouring release of the powerful tumour fighting Th1 cytokines.
In the current study, the research team made two significant structural modifications to the  α-GalCer ligand in an attempt to make it more effective. 
Both changes, working in tandem, strengthened the effectiveness of the entire molecular complex in terms of activating human iNKT cells, Professor Howell says.
---
This article is based on a media release originally prepared by the University of Connecticut.
Read the full paper: Cell Chemical Biology titled Dual Modifications of α-Galatosylceramide Synergize to Promote Activation of Human Invariant Natural Killer T Cells and Stimulate Anti-tumor Immunity.
The research was supported in part by grants from the National Institutes of Health in the US.