1 August 2013
Australian and overseas researchers who use the Australian Synchrotron's specialist experimental capabilities have collectively published a grand total of 1000 papers. That's a major milestone in anyone's language and a great achievement for a facility that is only six years old.
The 1000th paper describes new work by Dr William Gee and Professor Stuart Batten from Monash University, who are exploring a new class of materials with potential applications in molecular sensing, carbon dioxide capture, and hydrogen-fuelled transportation. The researchers varied their processing conditions to transform the same components into a series of different compounds with diverse structures, and used synchrotron x-ray crystallography at the Australian Synchrotron to determine the crystal structures of their new compounds.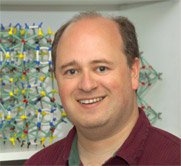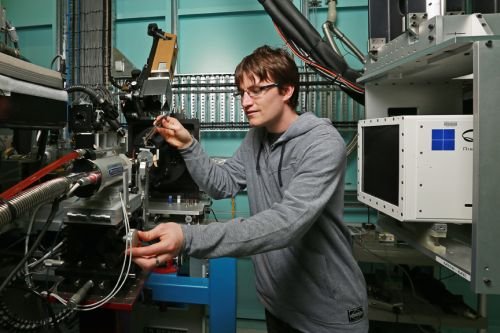 Photo above left: Stuart Batten at Monash University. Photo at right: William Gee at the Australian Synchrotron.
William received a Victoria Fellowship in 2012 for his work towards the development of cheaper and greener plastic products. His research focuses on the creation of new catalysts that will enable new products to be made from relatively simple materials, or convert toxic waste into less-hazardous materials.
Synchrotron x-ray crystallography is an essential technique in many areas of biomedical and industrial research, including the development of new pharmaceuticals and advanced materials.
The 1000th paper is: William J. Gee and Stuart R. Batten, Cuprous Halide Complexes of a Variable Length Ligand: Helices, Cluster Chains, and Nets Containing Large Solvated Channels, Crystal Growth & Design, 13 (6), 2335–2343 (2013).
Synchrotron staff and researchers celebrated the achievement in style – with a large chocolate cake!