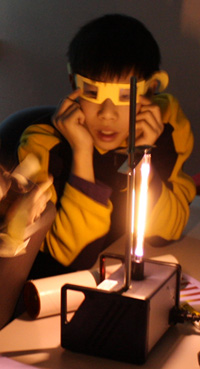 The Australian Synchrotron open day on Sunday 15 August 2010 attracted more than 3000 visitors of all ages. Among the more unusual guests were a large and very friendly robot named Tubby, a 'mad scientist' who assured us that he could fix our flux capacitor, and a couple of Star Wars-style storm-troopers!
However, the hit for the day was clearly synchrotron science – with visitors encouraged to 'ask the scientists' about their work, and treated to light shows, art displays and even the opportunity to make their own protein models.
Staff members and volunteers worked hard around the facility, answering visitors' questions about what synchrotrons are, how they work and what they actually do. In an area set aside for art and craft activities, children industriously applied coloured pencils to synchrotron diagrams and created amazingly colourful new protein structures using paper ribbons, chenille sticks (aka pipe-cleaners), scissors and glue. Visitors could also hear more about our work at special 'synchrotron science for dummies' talks, or try some hands-on synchrotron science in the education centre.
"I could have spent a whole day exploring and wish I could be a young science student again," said one visitor. Another said the open day was "a rare scientific opportunity for a social outing". Most visitors were curious to discover what a synchrotron does, or keen to increase their knowledge of science; some were interested in a family day out. Many offered useful suggestions for how we could make the day even better for visitors of all ages and backgrounds.
A very big thank you to everyone who was involved in our Open Day, including staff, volunteers and visitors. We look forward to seeing you again next year – and don't forget to bring your friends, be they space invaders or geeky science lovers!!