A new outdoor meeting place and garden at the Australian Synchrotron honours the memory of synchrotron pioneer Steve Wilkins, who passed away unexpectedly in March 2013.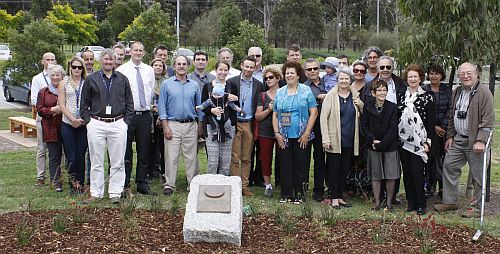 In December 2014, family, friends and colleagues of Steve Wilkins gathered at the Synchrotron to inaugurate the Steve Wilkins International Centre for Contemplative Thinking next to the IMBL satellite building. The area features all-weather tables and benches made from Australian cypress, surrounded by Steve's favourite trees, moonahs (Melaleuca lanceolata, aka black tea-tree, dryland tea-tree, Rottnest Island tea-tree, western tea-tree) along with bottle brush, kangaroo paws and other native plants. Nearby is a stand with a bronze plate with the centre's name and the picture of Steve used for the Australian Synchrotron Stephen Wilkins Medal.
The construction of the Centre was made possible by donations from around the world. The organisers plan to add a gazebo or shade sail to shelter the tables year-round. Further donations can be made here.
Steve's close friend Daniel Hausermann, from the imaging and medical beamline team, said the area was "a loving memorial to Steve and his contribution to science, a place of reflection and peace at the Australian Synchrotron".