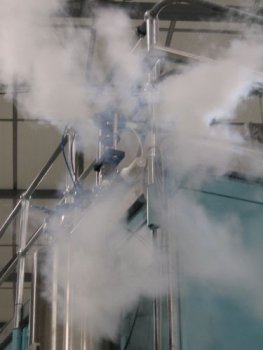 Thank you to everyone who entered the July-August 2012 photo competition at the Australian Synchrotron.
The winner of the July-August 2012 photo competition is Bridget Ingham from Industrial Research Ltd, New Zealand for her 'vapour star' photo (see right) of nitrogen gas being released from the XAS beamline. Liquid nitrogen is used to cool down some of the equipment that filters and conditions synchrotron light for experiments on this and other beamlines; and is turned into nitrogen gas in the process.
The judges also liked the MacGyver-style portrait of AS staff member Stephen Mudie on the SAXS/WAXS beamline, by Ludovic Dumee from Deakin University. In the 1985-1992 American television series of the same name, MacGyver was a secret agent with an encyclopaedic knowledge of science. He refused to handle a gun and routinely solved complex problems in a matter of minutes using everyday materials, duct tape and a Swiss Army knife.