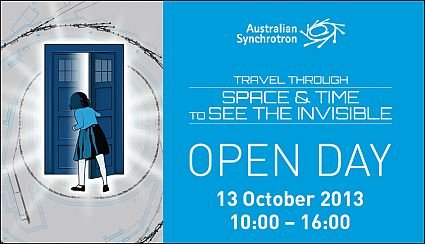 Did you know...
- we slow down time?
- we see the invisible?! 
The Australian Synchrotron Open Day is a once-a-year opportunity to get access to Australia's only synchrotron – including areas normally restricted to specialist scientists and engineers.
Self-guided tour brochures will help you on a journey through the National Centre for Synchrotron Science (NCSS) and around any or all of nine specialist beamlines. There will also be the ever-popular 'Synchrotron science for dummies presentation' and some fun activities for the kids.
The program of events (below) includes talks from our scientists and some of our key industry users.
With something for everyone, the Australian Synchrotron Open Day is sure to be an intriguing day out for the whole family.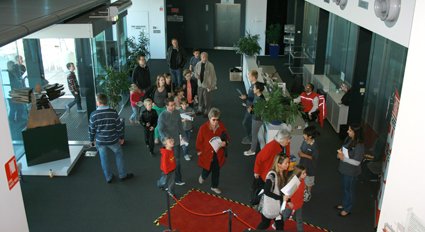 Visit archive.synchrotron.org.au/openday2013 to book!
ACTIVITY
TIME
BUILDING
ROOM

Program of events

TALK Synchrotron Science for Dummies
10:00am
10:30am
12:00pm
12:30pm
1:00pm
1:30pm
3:00pm
NCSS (square building)
 Oliphant Auditorium
TALK Synchrotron science in everyday life – what sort of companies use it?
11:00-11:45am
 NCSS
 Oliphant Auditorium

TALK

A day in the life of a synchrotron scientist

 2:00-2:45pm
 NCSS
 Oliphant Auditorium
Kids lab sessions
(age 9-14)
10:30am
12:00pm
1:30pm
3:00pm
 NCSS
Interactive Learning Centre
Kids craft
(age under 9)
 All day from 10:30am
Synchrotron (round building)
Between Stations 4 & 5
Kids passport activity
 All day from 10:30am
 NCSS
Starts in the User Office
Specialist tours
Throughout the day
Meeting point is NCSS seminar room
See reception desk for more information