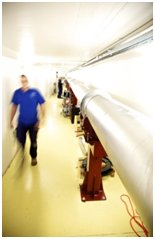 28 June 2013
The world's widest synchrotron x-ray beam is now operational in Melbourne, following a period of intensive development.
The new x-ray beam is the life blood of the Australian Synchrotron's upgraded, high-tech, imaging and medical beamline.
Many of Australia's top medical and biomedical scientists are already preparing to use the new facility, which will boost Australia's capacity in key research areas such as bone, cardiovascular, heart and lung health, and radiotherapy.
The power behind the new beam is the 'silver wiggler': a $1.3 million superconducting multi-pole wiggler magnet.