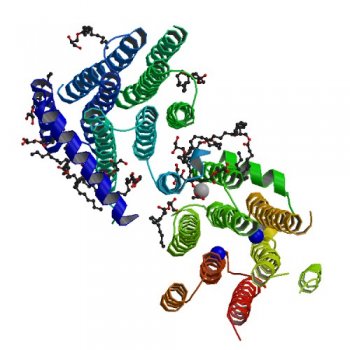 28 June 2013
Dr David Aragao from the macromolecular crystallography beamline team has achieved his third publication in Nature, one of the world's most prestigious scientific journals.
The latest article "shines light", as David puts it, on the structure of diacylglycerol kinase (DgkA), a membrane protein involved in shuttling water-soluble components across membranes in Gram-negative bacteria. For 50 years, DgkA has been extensively studied and used as a model in enzymology, membrane protein folding, assembly and stability. However, structural details have been difficult to obtain.
The structure published in Nature highlights the limitations of a low-resolution structure determined by nuclear magnetic resonance (NMR) and published in 2009. David says this result "shows the importance of high resolution data in the protein crystallography and NMR fields for improving our understanding of how these marvellous machines work".
Crystal structure of the integral membrane diacylglycerol kinase (2013) Dianfan Li, Joseph A. Lyons, Valerie E. Pye, Lutz Vogeley, David Aragão, Colin P. Kenyon, Syed T. A. Shah, Christine Doherty, Margaret Aherne & Martin Caffrey
, comparing the NMR and crystal structures for DgkA.
David's contribution to this work started while working at Trinity College Dublin and continued as an Australian Synchrotron employee. David was involved in collecting and processing data, solving, refining and analysing the structures. He was also involved in writing the paper. At the Synchrotron, David combines his research in membrane structural biology with providing user support on the MX beamlines.
Image from http://www.pdb.org/pdb/explore/explore.do?structureId=3ZE3