15 April 2013
Recent visitors to the National Centre for Synchrotron Science may have noticed a display of black and white photos in the exhibition space outside the auditorium. The photos are the work of synchrotron users and keen amateur photographers Peter Kappen and Diana Mittag.
"Essentially, the work illustrates a synchrotron experiment, starting from arriving at the facility through to collecting the actual data. The story we tell follows two threads: One is about objects and the structure of the synchrotron itself, the other highlights the people and their interactions with the place. These threads are actually a smaller version of the greater research story, so in a way you are stepping into a research microcosm.
"Traditionally, you would use colour photography to tell a story like this. Every day, colour is a key to our interpretation of the synchrotron. It encodes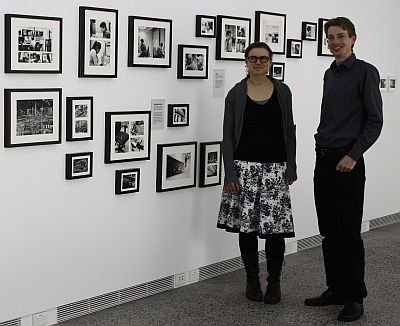 safety systems, building parts, and experimental environments. But what if we remove the colour and focus our vision on the structure underlying the synchrotron?
"We may then resort to straight lines and defined angles as typical associates of technology giving the impression that they suffice as the facility's structural descriptors. Yet, the synchrotron is an organic space, well beyond the evidently round shape of the building. Curves, patterns, and details are distinct counterpoints to straight lines and, above all, they amplify the actual nature of the facility: a place of great focus, intensity, and human interaction.
"Stripping away the colour helps us to focus on the nature of the synchrotron. It helps us to see those different stories unfold, those stories of getting your samples ready at the beamline, of pensively staring at screens, of making an experiment work.
"With our black and white images we invite you to experience the Australian Synchrotron from a different perspective."