In July 2011, 220 researchers and students from around Australia and New Zealand took advantage of a great opportunity to learn more about using synchrotron and neutron techniques to help achieve their research goals.
The occasion was a joint Australian Synchrotron-ANSTO symposium at the University of New South Wales. The Synchrotron and Neutron New Users Symposium 2011 presented potential new users, particularly younger scientists, with information about how to use the specialised x-ray, infrared and neutron techniques now available at the synchrotron and at ANSTO's OPAL research reactor – and how to gain access.
The free event included presentations by staff from ANSTO's Bragg Institute, the Australian Synchrotron, CSIRO and university users of the facilities. Presenters gave examples of synchrotron and neutron applications in fields such as biomedical, materials, environmental and physical sciences. Participants included undergraduate students, postgraduates and PhD candidates. The Australian Institute of Nuclear Science and Engineering provided travel support for 36 participants.
The symposium was sponsored by ANSTO, the Australian Synchrotron, AINSE, University of New South Wales, Monash University Biomedical Imaging, CSIRO, University of Sydney, University of Melbourne and La Trobe University.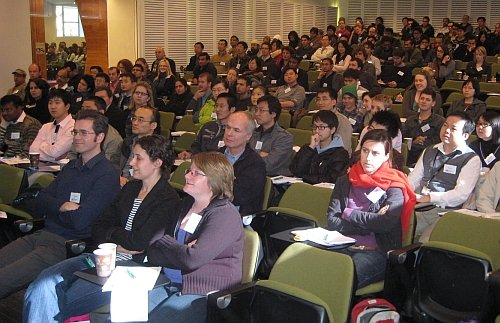 Right: A recent symposium for potential new users of synchrotron and neutron techniques attracted 220 participants.