The Australian Synchrotron's Science Advisory Committee (SAC) was established by the Australian Synchrotron Board to advise the Board on the strategic scientific direction of current and future scientific programs to ensure that these are of the highest quality and of continuing relevance to the requirements of the Australian scientific community. The SAC is made up of leading scientists from around the world, many of whom manage programs and facilities at leading synchrotron sources internationally. The current chair is Professor Ted Baker, Professor of Biological Sciences, the University of Auckland.
The SAC met at the AS in March 2011 with members undertaking informal visits around those days. Two members (Ted Baker and Harald Reichert) also attended the launch of the MASSIVE supercomputing project on 9 March.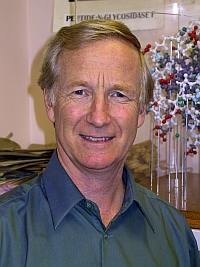 During their meeting, the committee received presentations from management and the board and engaged with facility scientists looking at the operations, programs and achievements of our staff. According to Ted Baker (photo on right), the SAC was very impressed with the quality and range of science that is performed as well as the technical proficiency of our operations. He noted that there are challenges ahead for the AS, particularly in relation to securing funding, but said that: "With its recent senior appointments and its adoption of SAC recommendations on internal allocations of resources, the Australian Synchrotron is structurally in excellent shape for continued operation and expansion".
AS Head of Science Andrew Peele welcomed the comments. "The SAC is an excellent review body that has provided us with a wealth of useful technical and strategic advice that optimises the scientific performance of our facility. I'm very pleased to see the positive comments regarding our performance. It's a great reflection on the dedication and enthusiasm of all our staff that we are able to perform at such a high level."
The next SAC meeting is scheduled for December 2011.