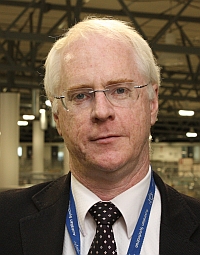 As you know, I recently took up the role of Director, Australian Synchrotron. I have been involved with the development of Australian access to synchrotron facilities for quite a few years in a number of capacities. For example, I was involved at the beginning of the Australian Synchrotron Research program, I chaired the group that produced the 'Australian and New Zealand synchrotron-based science strategic plan 2007-2017', I was a member of the Board of Directors until early this year and before that I was briefly a member of the Scientific Advisory Committee. And I am a user.
My current position is nominally one day a week, which some of you might see as a relatively modest commitment. However I believe that I can be effective within this timeframe because of the really excellent team that is here. George Borg has done a fantastic job running the Australian Synchrotron over the last eighteen months or so and he will continue to oversee the operations as Chief Operations Officer, and Andrew Peele is having real impact as Head of Science. I can use my time to concentrate on ensuring strategic direction, liaising with government, and assisting with arguments for ongoing funding. 
I am extremely optimistic about our future. Our discussions with government are ongoing, and it is clear that everyone genuinely wants us to succeed. On her recent visit here, the Victorian Minister for Innovation, Louise Asher, was hugely impressed by our work and very clearly indicated her support for the facility.
As part of looking to the future, we are working hard to ensure that we communicate our achievements so far to foundation investors, the institutions and consortiums who some years ago collectively provided $50 million to fund our initial set of beamlines – and demonstrate that we are continuing to address their needs.
We are also working with the members of our National Science Colloquium, under the capable chairmanship of Sir Gustav Nossal. The NSC includes such eminent Australians as Nobel prize-winner Peter Doherty, the new Australian Chief Scientist Ian Chubb and former federal science minister Barry Jones. The scientific community is really strongly supportive of our work.
I'm passionate about the Australian Synchrotron and it is genuinely a real privilege to be able to contribute to its future success as part of such a fantastic team. Thank you and stay tuned.
Keith Nugent
Director, Australian Synchrotron