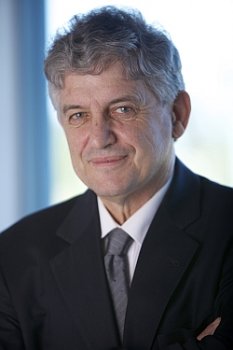 I am pleased to announce that the Australian Synchrotron Board has appointed a new Director, Professor Keith Nugent. I have stepped down as Acting Director to take on the newly created position of Chief Operating Officer, which means I am responsible for day-to-day management of the facility. I am also Chief Executive Officer for the synchrotron holding company, ASHCo.
Keith Nugent is well known to the Australian and international synchrotron communities. He has been a member of our Board and senior management committees and was the main driving force behind the Australian and New Zealand Synchrotron-based Science Strategic Plan 2007-2017.
As Director Australian Synchrotron, Keith will focus on scientific leadership and strategic development. His main priorities will be to help ensure that the synchrotron continues to produce great science – and to work with the Board, our new Head of Science, Andrew Peele, staff, stakeholders, Science Advisory Committee and National Science Colloquium to promote the case for the synchrotron's future expansion and development.
We also welcome Michael Tonroe as our new Chief Financial Officer. Michael has previously been CFO and company secretary for companies in Australia, the UK and Hong Kong.
And finally, as this is my last column as Acting Director, I would like to express my sincere thanks to all staff and stakeholders who have supported me in this role over the last 16 months. During this period we have collectively faced – and triumphed over – some major challenges and achieved some significant milestones.  Highlights have included:
Operating a safe working environment for our staff and maintaining a world-class facility
Preparation and submission of the Business Case and Science Case 2
Establishing good relationships with stakeholders
Achieving compliance and operation within budget
The commencement of various construction works
The joint launch of the MASSIVE high-performance computing facility
The visit of the new Victorian Minister for Technology, the Hon. Gordon Rich-Phillips.
I feel privileged to have had the opportunity to make a contribution at this level to the future of the Australian Synchrotron.
We are very fortunate to have someone of Keith Nugent's scientific standing to lead us into the next phase of the Australian Synchrotron's development and we will all work together to ensure the success of this leadership transition.
George Borg
Chief Operating Officer
Australian Synchrotron