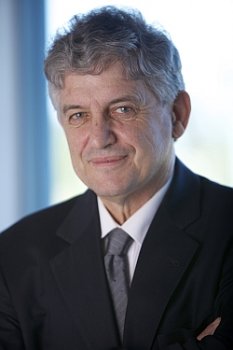 With the New Year 2011 barely begun, major developments are already well underway at the Australian Synchrotron.
The area around the main synchrotron building is starting to resemble a series of construction sites as work commences in earnest on an extensive building program made possible by a grant from the federal government's Education Infrastructure Fund.
New facilities under construction include the National Centre for Synchrotron Science on the old gravel car park near Blackburn Road, a separate engineering building to house an uninterruptable power supply (UPS), a user accommodation block and a 'pod' extension for staff offices. Further information appears later in this Lightspeed, and as work progresses, we will post regular updates and photos on our website.
Also rapidly taking shape is the extended and upgraded imaging and medical beamline. This work involves construction of a near-beam surgery preparation area inside the main synchrotron building and a second storey for the satellite building that will house additional preparation and handling facilities for clinical research programs using the long beamline.
We have recently made new appointments to two key positions. We welcome Dr Andrew Peele as our new Head of Science and Dr Shirley Lanning as the new Head of External Relations. Andrew and Shirley have begun working with their teams and introducing themselves to key stakeholders.
We are looking forward to working closely with the new Victorian and Australian governments on implementing strategies to achieve the objectives outlined in the synchrotron business case submitted last year. This important document presents in detail the case for future operational funding as well as funding for the improvement and expansion of our current facilities, including the initial suite of nine beamlines (specialised experimental stations). The business case is complemented by 'science case II', which outlines a range of proposed developments, including new beamlines to meet the future needs of the research community.
We are delighted that Daniel Taylor, Consul-General/Trade Commissioner for New Zealand will be visiting the facility this month, helping us to consolidate links with the business community in New Zealand.
We recently invited the new Victorian Minister for Innovation, Services and Small Business, the Hon. Louise Asher, to visit the facility and we look forward to welcoming her on site in the near future.
Image: George Borg, Acting Director, Australian Synchrotron