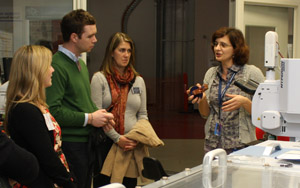 Synchrotron techniques are assisting the preservation of historical documents, works of art, buildings and other physical objects that embody much of what we know about our past and that of ancient civilisations.
However, these physical objects are often fragile and require careful handling to ensure their continued preservation. Australian researchers and conservators are increasingly using synchrotron techniques to analyse and help preserve historical and cultural heritage materials from around the world.
In September 2010, conservators from across Australia attended a workshop at the Australian Synchrotron to learn more about synchrotron science for cultural heritage materials. The workshop was organised by Deborah Lau from CSIRO Materials Science and Engineering and supported by the Australian Synchrotron and the Australian Institute for the Conservation of Cultural Materials (AICCM).
After hearing from synchrotron scientists about the scope and applications of relevant synchrotron techniques, participants were presented with case studies from conservators and researchers who are currently using synchrotron techniques in their work with cultural heritage materials.
Read on for a summary of the workshop presentations, which are also available in more detail on the AICCM website (see link below).
Techniques
Infrared microspectroscopy expert Ljiljana Puskar emphasised how the advantages of the bright synchrotron IR source, such as fast data acquisition, improved signal-to-noise ratios and enhanced lateral resolution, can benefit work in materials conservation. She offered examples of work from the IR microspectroscopy beamline, including the identification of minor components such as pigments present in low concentrations. This information would be lost using conventional laboratory IR sources and is only possible using a synchrotron source.
Chris Glover, who heads the x-ray absorption spectroscopy (XAS) beamline at the Australian Synchrotron, explained the value of the techniques available on XAS beamline.
Daryl Howard from the x-ray fluorescence microprobe (XFM) beamline team told participants about recent work on a self-portrait by Arthur Streeton (discussed subsequently in more detail by David Thurrowgood). For conservation work, the XFM beamline offers spatial resolution between 1 and 100 microns. The beamline's new detector, the Maia-384 detector, collects data much faster and minimises potential radiation damage. A new sample stage that can scan objects as large as 600 x 300 mm will be available early in 2011.
The imaging and medical beamline, which is currently being upgraded, will offer non-destructive, low-dose, high contrast-resolution 2-D and 3-D (computed tomography) imaging. Synchrotron scientist Chris Hall noted that the beamline's 33 frames per second and 50-micrometre resolution are significantly better than MRI scanning techniques.
Powder diffraction beamline head Kia Wallwork told participants that x-ray powder diffraction (PD) is an important tool for characterising materials that consist of many tiny crystals, such as mineral samples, artists' pigments and Aboriginal ochres. Although laboratory x-ray sources are good for routine work, synchrotron PD provides higher intensity x-rays, much better peak resolution and faster data collection, in addition to a much larger selection of means for mounting unusual samples.
Applications
Maria Kubik from the Art Gallery of Western Australia has surveyed Aboriginal red ochres from sites around Australia. Red ochre was extensively traded across the continent. Maria has produced an ochre atlas for the National Museum of Australia and is interested in using synchrotron techniques to obtain maximum information from tiny samples, and potentially also for analysing ochres in Aboriginal artworks.
David Hay and Deborah Lau from CSIRO use a range of synchrotron and laboratory x-ray techniques. David noted that while traditional laboratory-based XRD and XRF techniques are well-established in the art conservation world, the benefits of synchrotron (over laboratory) sources have led to an upsurge in applications over the last few years. In particular, the high flux levels and tunability of synchrotron radiation sources allow mapping experiments to be performed in real time over relatively large areas of, for example, paintings or artefacts. This can be done using spot sizes measured in micrometres (microns) or smaller. XRD mapping reveals the detail of crystalline phase distributions, XRF mapping shows the distribution of specific elements, and XAS carried out at specific points provides information on the forms of those elements, e.g. oxidation states.
Alana Treasure from the University of Canberra and the Australian War Memorial is using a synchrotron technique called micro-FTIR spectroscopy to examine how iron gall inks are degrading historic documents on parchment. The work complements international studies of iron gall ink damage on paper. Alana follows the extent of the degradation by looking at changes in the IR spectrum peaks that correspond to protein amide groups. She also reported on work being done by Rosemary Goodall from the Queensland University of Technology, who is using similar techniques to look at Aboriginal rock art from Queensland and paint and plaster samples from Mayan buildings in the Honduras.
Melina Glasson and Nicola Tse from the University of Melbourne's Centre for Cultural Materials Conservation discussed their use of synchrotron techniques to examine and characterise twentieth century painting materials and their degradation in humid environments. A particular challenge is the need to develop methods to enable soft materials to be thinly sliced in a microtome prior to analysis by synchrotron IR spectroscopy.
David Thurrowgood from the National Gallery of Victoria told the workshop about his work in collaboration with Deborah Lau (CSIRO) and Daryl Howard (Australian Synchrotron). They are developing synchrotron techniques for obtaining maps of the distribution of different elements in paintings. Knowing which elements are present and where provides valuable information on which pigments have been used, assisting studies of authenticity, composition and restoration. Recent work has centred on a self-portrait of Arthur Streeton that was subsequently painted over by the artist. David commented on the safety aspects of using synchrotron techniques on artworks, noting that the XFM beamline hutch temperature and relative humidity during data collection were better than most galleries, and that a system capable of detecting surface temperature changes due to a 10-second finger touch did not detect any thermal change on the surface of the Streeton self-portrait while it was on the synchrotron beamline.
Mark Eccleston and Peter Kappen from La Trobe University were unable to attend the workshop in person because they were in Hamburg using a German synchrotron to complement their Australian Synchrotron work examining ancient Egyptian faience. Instead they provided a pre-recorded presentation, in which Mark explained his studies of the faience and manufacturing industries of Amarna, which was the pharaoh Akhenaten's royal capital for a period of just 25 years around 1350 BC. A quartz-based ceramic material with a vitrified blue-green surface glaze, faience was used for jewellery and decorative items such as the shabti figurines found in many Egyptian tombs. Mark is using synchrotron powder diffraction and x-ray absorption spectroscopy to investigate the materials and methods used to make faience.
More information
More information on the workshop presentations will be made available on the AICCM website at http://www.aiccm.org.au/
Photo: Ljiljana Puskar (RHS) explains the advantages of using a synchrotron IR source.