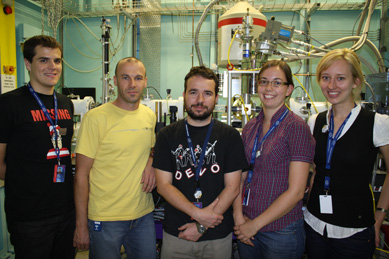 Selenium supplements may help prevent a wide range of cancers such as colon cancer, but too much selenium can lead to cardiovascular problems and other health issues. The gap between selenium benefits and selenium toxicity is surprisingly small, and is strongly influenced by the chemical form of selenium that is ingested.
Some health conditions are influenced by selenium-containing enzymes (organic selenium) while others are associated with smaller selenium-containing molecules (inorganic selenium). Both types can cause health problems if they are present at high enough levels.
Dr Hugh Harris from the University of Adelaide and his colleagues from the University of Adelaide and the University of Sydney are investigating selenium metabolism, storage, accumulation and general biology in mammals. The researchers are also looking at how selenium interacts with other metals such as copper and iron, which may play a role in how the body responds to various levels of selenium supplementation.
Synchrotron x-ray absorption spectroscopy (XAS) is the only technique that can determine the chemical form of selenium in biological samples without having to process the samples in ways that could change the chemical form from what it is in the body.
Led by Chris Glover, the Australian Synchrotron's XAS team recently installed a powerful new 100-element germanium detector on their beamline, making it one of only four beamlines in the world with this enhanced capacity.
Hugh and his colleagues visited the Australian Synchrotron in May 2010 to become the first users of the new XAS detector. They analysed a range of cultured human tissue samples to investigate the chemical forms that selenium takes in different organs. Data analysis is still underway but Hugh says that the group has already shown "that different chemical forms have distinct fates in the cells, a finding that is at odds with established literature".
After analysing their XAS data, the team plans to use the same technique to look at chemical forms of selenium in intact tissues from rats.
The XAS work is complemented by the team's studies on the x-ray fluorescence microprobe (XFM) beamline at the Australian Synchrotron. They are using the microprobe to look at sections of rat kidney from rats that have been fed small quantities of selenite, with the aim of learning how selenium is distributed in this organ.
"While we also travel to overseas synchrotrons, it is quicker, easier and much cheaper to travel to Melbourne," Hugh says. "The new XAS detector makes the Australian Synchrotron even more attractive for our purposes."
Image: Chris Glover (second from left) with the first users of the new XAS detector: (L to R) Jason Wedding, Hugh Harris, Claire Weekley and Casey Doolette, all from the University of Adelaide