The first of our new series of public presentations was a tasty demonstration of the impact of synchrotron science on food technology.
Held in early October, 'There's SCIENCE in your food!' showcased research at the Synchrotron that plays an essential role in developing better, more health-giving foods for the future. As demonstrated by an enthusiastic audience of over 160 people, the public are hungry for synchrotron science.
On the menu were several appetising presentations about:
A new understanding of the structure of milk fats during digestion that is helping researchers develop improved milk products for premature babies and dieters, and guiding the development of better ways to deliver drugs through the digestive tract.
How chocolate and potato chip manufacturers have benefited from synchrotron information about the exact crystal structure for delicious chocolate, and about making sure chips don't absorb too much oil during the cooking process.
Nanoscale information that can help scientists figure out how juicy or tasty meat will be, or how to ensure that a wine will taste good and age well.
How 4D synchrotron x-ray images can reveal which combination of American and Australian wheats gives the best rise in a bread dough, or what a dinosaur had for his last meal – without even having to break the bedrock to reveal its skeleton!
Watch our website for details on the next event in the series "Crystallography: making matters crystal clear" scheduled for 11 December.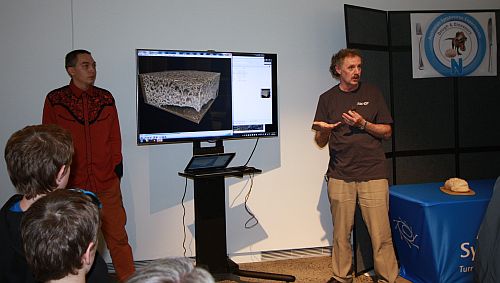 Andrew Stevenson (at right, above) described how the Synchrotron has helped industrial researchers determine the best blend of Australian and American wheats by watching the blends bake in the synchrotron beam!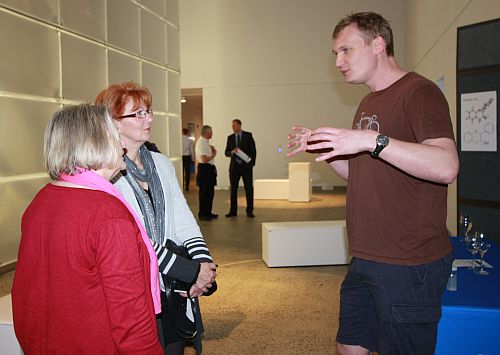 Nathan Cowieson (at right, above) and other Synchrotron scientists were very generous with their time and thoroughly enjoyed sharing their passion for food-related work at the Synchrotron.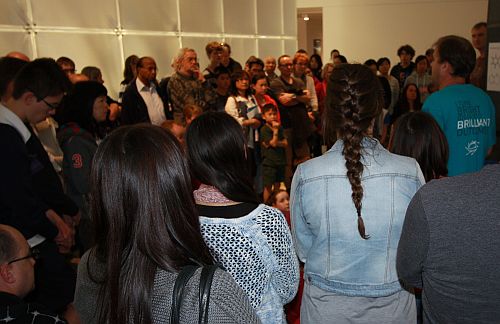 Nigel Kirby (far right, 'brilliant outcomes' t-shirt) talked about the fascinating work he and his team do on the SAXS/WAXS beamline to help scientists better understand the juiciness of steak and the taste of wine.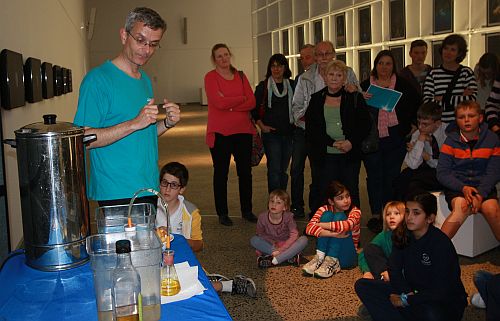 Mark Tobin explained how synchrotron studies of the science of frying chips taught industry that fat isn't absorbed by chips until they're taken out of the oil and cooled. His demonstration included hot and cold water and frying oil.
For more fun photos of the event you can see a public Facebook photo album here: http://bit.ly/SCIENCEinfoodEVENT