A potential new drug being trialled in Melbourne could be a major advance for patients with chronic lymphocytic leukaemia that doesn't respond adequately to currently available treatments.
The Australian Synchrotron is growing Australia's capacity for innovative drug development, facilitating the advance of world-class disease and drug research through to local drug trials. Access to the Synchrotron's advanced capabilities underpins the world-renowned Australian biomedical research community's ability to attract major international pharmaceutical collaborations and significant investment.
The Australian Synchrotron has played a crucial role in the discovery of a new cancer drug now in advanced clinical trials in Melbourne for treatment of chronic lymphocytic leukaemia (CLL).
Each year in Australia, around 350 people die from CLL and 1300 new cases are diagnosed, making this the nation's most common leukaemia. Eighty per cent of CLL patients are aged 60 or older.
The research was performed at the Walter and Eliza Hall Institute (WEHI) in partnership with two major international pharmaceutical companies. WEHI structural biologist Dr Peter Czabotar said the Synchrotron was "key to discovering the drug".
"The highly detailed 3D images of protein structures that the Synchrotron provides were crucial," Peter said. "We needed this level of detail to develop a drug that targets one single protein – and not the other four very similar proteins in the same family – critical for minimising potential side-effects."
The drug discovery and development work has taken five to 10 years to reach the trial stage. It was underpinned by more than 20 years of basic biology research, dating back to WEHI's discovery that the BCL-2 family of proteins protects cells against apoptosis – the 'programmed cell death' process that the body uses to remove old or dangerous cells.
"It's taken a long time to fully understand the function of BCL-2 proteins and turn this basic knowledge into drugs that can stop cancer cells from progressing into cancer." Peter said.
"If we started a similar project now, our access to the Synchrotron would rapidly accelerate the identification of suitable drug targets and the development of potential drug candidates for clinical trials.
"Australian Synchrotron staff keep their beamlines in top shape, and their scientific skills help us solve protein structures and develop compounds to stop target proteins in their tracks."
Head of Business Development at WEHI, Julian Clark added: "the Synchrotron was instrumental in enabling researchers to achieve world-class synchrotron technical skills and attract major industry partners, contributing to Australia's growing ability to host clinical trials for important new drugs".
Ease of access to synchrotron techniques was an important factor behind the recent construction of new WEHI facilities worth $150 million, funded by philanthropic sources and the federal and state governments. One floor of the new space is occupied by WEHI's high-powered structural biology team. Over the last five years, the structural biology team has achieved over 50 publications, 10 patents and more than $20 million in research funding from industry just for the programmed cell death work, which is one of four major projects.
"This drug is potentially a major advance for patients with CLL that doesn't respond adequately to currently available treatments," according to Prof. Andrew Roberts, WEHI Head of Translational Research. "Early-stage clinical trials suggest that the drug may lead to complete remission in one-quarter of patients with advanced CLL that isn't responding to other therapies. The clinical trials now underway will take at least three years."
If the advanced clinical trials are successful, the CLL drug will be developed for market, benefiting sufferers globally. The CLL work may also assist development of treatments for breast cancer and other diseases where cell death is not occurring at the appropriate rate.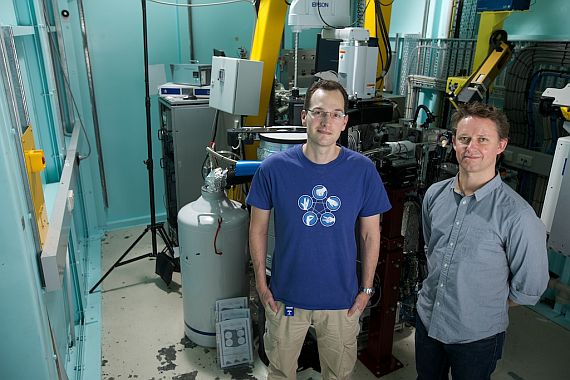 Photo above: Dr Tom Caradoc-Davies (left), is the Principal Scientist of the Macromolecular- and micro crystallography beamlines (MX1 an MX2) responsible for a large proportion of the structural biology work conducted at the Australian Synchrotron. On the right is Dr Peter Czabotar, from the Walter and Eliza Hall Institute of Medical Research (WEHI), who is using MX2 as part of an international collaboration to tackle chronic lymphocytic leukaemia (CLL).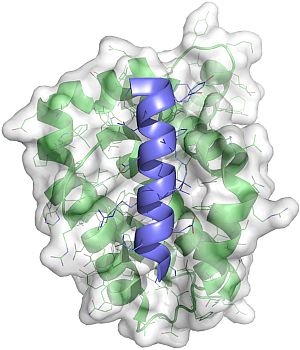 Structure of a Bcl-2 family protein bound to a natural BH3 ligand. Information gained from structures such as this solved at the synchrotron were key to informing the development of drugs that can mimic these interactions.